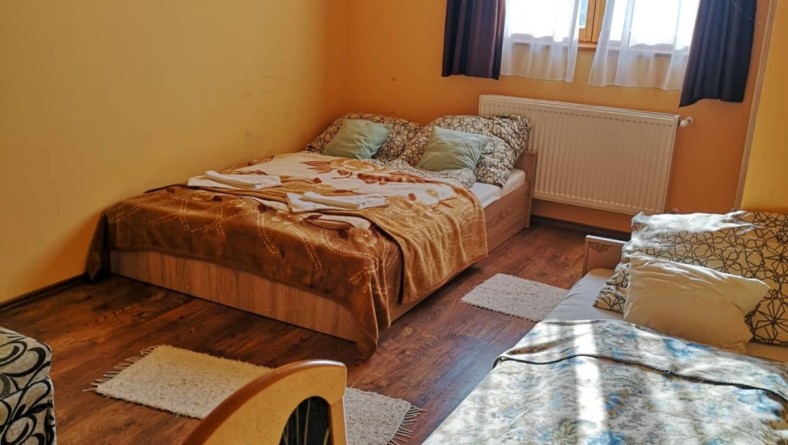 Homely hospitality and accommodation in a panoramic setting!
Located in the green belt of Zalaegerszeg, Jánkahegyi Gyuri Csárda és Vendégház has a terrace with a wonderful panorama. Guests can enjoy our delicious food, wines and liquors in magical surroundings above the city.
Our guesthouse welcomes dear guests, who either desire some recreation or who visit Zalaegerszeg for more days and wish to spend their days pleasantly in these cosy and family-friendly rooms. The rooms come with a bathroom, toilet, TV and a fridge. There is a swing and a petting zoo for children. The accommodation also features a salt room (dry salt), an infrared sauna and a Finnish sauna! !!! As an extra service, we can offer different types of massage!!!
Room rates:
Single room for 1 person: 5.000 Ft /night
Extra bed: 3.000 Ft/night
2-3 bed room for 1 person: 6.000 Ft/night
For 2 persons: 10.000 Ft/night
For 3 persons: 12.000 Ft/night
Cot: 1.000 Ft/night
Apartment, separate building:
1 person: 7.000 Ft/night
2 persons: 12.000 Ft/night
3 persons: 15.000 Ft/night
The prices do not include the tourist tax (350 Ft/person/day).
Breakfast: 800 Ft/person
Pet: 2.000 Ft/day
(not allowed in every room!)
Use of air conditioner: 600 Ft/day
Sauna, salt room: 500 Ft/hour/occasion
(for any guest)
Prices include VAT (5%)
In case of a longer stay the price is a question of agreement (min. 20 days)
Further information, contact:
Leaving the room until 10 am!
Occupancy of the room from 2 pm!
Mobile (permanently available): +36309797206 (György Hart)
Telephone: +3692511911
Mobile: +36305527921
From the lookout tower that rises above our house, one can see far away, overlook the city and the magnificent scenery of Zala.
So if you are looking for a relaxing, family-friendly environment and local flavours after roaming in Zalaegerszeg, visit Jánkahegyi Gyuri Csárda, where your spirit and hungry stomach will be surely refreshed and you can even rest in the 13 room guesthouse with room for 30 people.