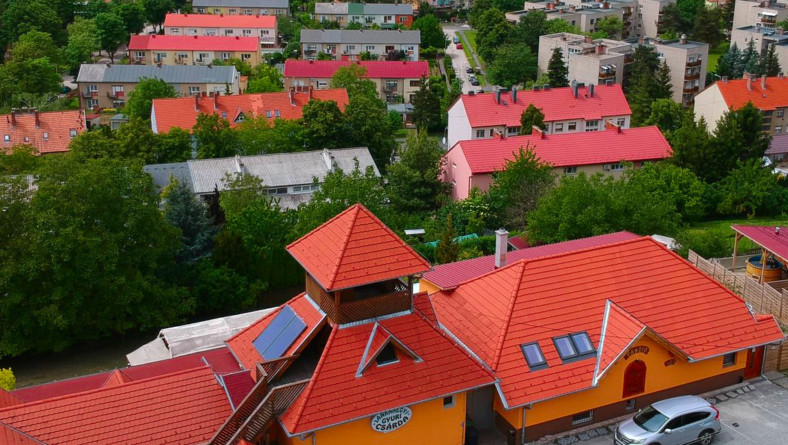 Gastronomic excursion at the meeting of city and nature
Jánkahegy is a quiet part of the town, close to nature, yet within easy reach of the bustle of the city. Therefore, it is within reach for today's rushing city people with less time, who still want a real recreation, but close-by. Located in the green belt of Zalaegerszeg, Jánkahegyi Gyuri Csárda és Vendégház has a terrace with a wonderful panorama. Guests can enjoy our delicious food, wines and liquors in magical surroundings above the city.

From the lookout tower that rises above our house, one can see far away and overlook the city and the magnificent scenery of Zala.
Not only the view and the petting zoo with pony and sheep make Jánkahegyi Gyuri Csárda unique, but also its gastronomic offer. Sausage soup, chestnut cream soup with rum raisins and maple syrup, Jánkahegy wine knuckle with roasted bread and farmer cabbage, chicken breast stuffed with grapes in walnut-almond coat and blackberry sauce – just to mention a few of the food rarities. Many dishes with fruit, goat- and sheep cheese, as well as Zala-, mountain- and regional food – these are the main lines of the menu selection. In addition to the good flavours, on weekends and on demand, live music provides the real tavern atmosphere.
Adapted to the needs of guests and frequent family and corporate events, Gyuri Csárda offers a total capacity of 112 seats in a variety of rooms: a restaurant for 60 persons, parlours for 32 and 20 persons and a panoramic terrace for 80 persons – the hungry guest can choose among these. It is a noteworthy oddity that a brandy house and a wine house also belong to the inn, where the visitor can get a taste of a huge selection of delicious drinks – 45 kinds of brandy and 52 sorts of bottled wine.